Women in Outdoor Media Meet-Up
Is this all a terrible mistake?! Storm Hannah was having a whale of a time outside, battering the sides of my little van as I contemplated at what point I should pull the whole weekend.
I reflected on whether I had taken on too much, planning a whole two day event on my own, the weekend after easter, during one of my busiest times of the year as a freelancer. I had already had a few understandable cancellations and it would be easy to spiral into negative thinking. I messaged one of the women I was expecting that night who was visiting friends in Swansea, perhaps she should stay there and come in the morning? But no, the amazing Ros was still coming, what a star!
Just as I received confirmation from Ros, storm Hannah decided to take a break. The sky suddenly glowed orange. I had been planning a sunset walk to Rhossili downs, if I was quick I could get there and back in time for Ros to arrive. I grabbed my camera and my waterproof trousers and made a run for it. The cold air was burning my throat as I ran, clutching my camera, waterproofs trailing behind in the wind (There was no time to stop and put them on!), and still the sky glowed. As I made it up onto the ridge I felt a wave of happiness, often the best light can be found in the worst conditions and this was no exception. I frolicked around on the top of the downs, jumping in the wind with only a kestrel for company. The weekend was back on, even if it was just the two of us!
I got back to camp and Ros arrived soon after. We said a quick hello and then made a plan to protect her tiny 1 person tent using my little van, her car and a hedge, creating a fortress out of the worst of the wind. Feeling happy with our work we made a beeline for the nearest pub, the Worms Head Hotel. The bar staff showed a mix of concern and amusement when we told them we were camping and we settled down in the window with a pint and properly introduced ourselves. Ros had driven all the way from Southampton to join us at the weekend and her enthusiasm re-energised me. The weekend was all about connecting with other women who were passionate about outdoor media, and we had already achieved that.
The wind howled off the raging sea and we settled down for a long and restless night.
The following morning the rain had cleared but the wind was still enthusiastically buffeting us. Who else would be mad enough to come out for a photography walk with 50mph gusts?! A few messages had been pinging back and forth the night before and at 10.30 two more intrepid women arrived. Hurrah! Natalie and Carys are both based in South Wales and braved the weather to come and join us for our media adventure.
Our happy band of four set off from Pitton Cross, merrily chatting about all things media with one-another from gear, to techniques, experiences and sharing tips. This was exactly what I had hoped for. Our first stop allowed us to seek some shelter at Mewslade Slabs, where we could explore some of the trials and tribulations that come with media-making in the outdoors. Using the awkward but ludicrously fun Horseshoe cave as our setting, we weasled through and positioned ourselves to photograph each other, attempting to capture the expressions and atmosphere that comes with a journey into the unknown.
Our faces hurt from laughing and we shared ideas for composition, settings and equipment with each other as we sat in the sunshine. Days like this are full of surprises and as we sat there chatting, occasional gusts of wind brought candyfloss foam floating up the valley towards us. We were drawn down towards it and were greeted by one of the most incredible sights I have seen at Mewslade. The whole bay was covered in sea foam and with each gust, large swathes of it were swept up and into the air and carried off up the valley. This was a photographer's dream. Of course I had it planned all along.
We continued our walk along the coast, accompanied by the drama of the sea, with the bitter salty air being whipped up around us, stinging our faces and setting the whole landscape in motion.
After a quick change I whizzed down to Port Eynon where I met Cory and Laura the founders of the amazing new zine, Daughters of the Sea, which celebrates cold water women surfers and is based here in South Wales. They were opening the night with a talk about their journey starting a zine before we screened a selection of adventure films put together by the wonderful Ruth from Shextreme. Port Eynon is not the most accessible venue choice for a film night and I was marginally (read extremely) concerned that it might just end up being me, Ros, Carys and a few of our friends in the audience. But more people kept arriving, including people we didn't know (to my great joy!). This got me really excited and as I made my way to the front to open the night I could barely contain myself! Once all the seats were full we kicked off the night.
Cory and Laura spoke beautifully about the creative and collaborative processes that come with starting something new and why they felt a call to take action to challenge and change the stereotypical and unbalanced images of women who surf that still dominate mainstream media. Sharing their own pitfalls and doubts was a powerful push encouraging us to take risks and put yourself out there and most importantly to start where you are with any new endeavour.
The films were an absolute triumph, they celebrated adventurous women from around the world from grassroots surfers in Jamaica to elite climbing in Wales. The night was topped off with the strong women of Iceland sharing how they have shaped their country, influenced by the land, sea and ice.
I was even more delighted when some of those who came along sought me out to share their thanks and tell me how much they enjoyed and valued the evening. Amazing things happen when you work together, so a huge thank you to Cory, Laura and Ruth for making the event happen.
On Sunday I roped Matt Woodfield from Outdoor Matters into delivering another one of his excellent 'Vertical Positioning for Climbing Photography' courses, which Ros and another intrepid media-maker, Natalie, attended. Matt explored the different methods of ascending and descending a rope safely and comfortably with Nat and Ros, including rigging and equipment. After some practice on flat ground, the team were ready to take it into the vertical world, where I donned my waterproofs and my climbing shoes to take an unfamiliar role in front of the camera as the model for the day. Well, you can't make a miracle (although Nat assured me I would make an excellent foot model if nothing else!), but Ros and Nat created some fantastic images, embracing the foundations to get started in the tricky world of climbing photography.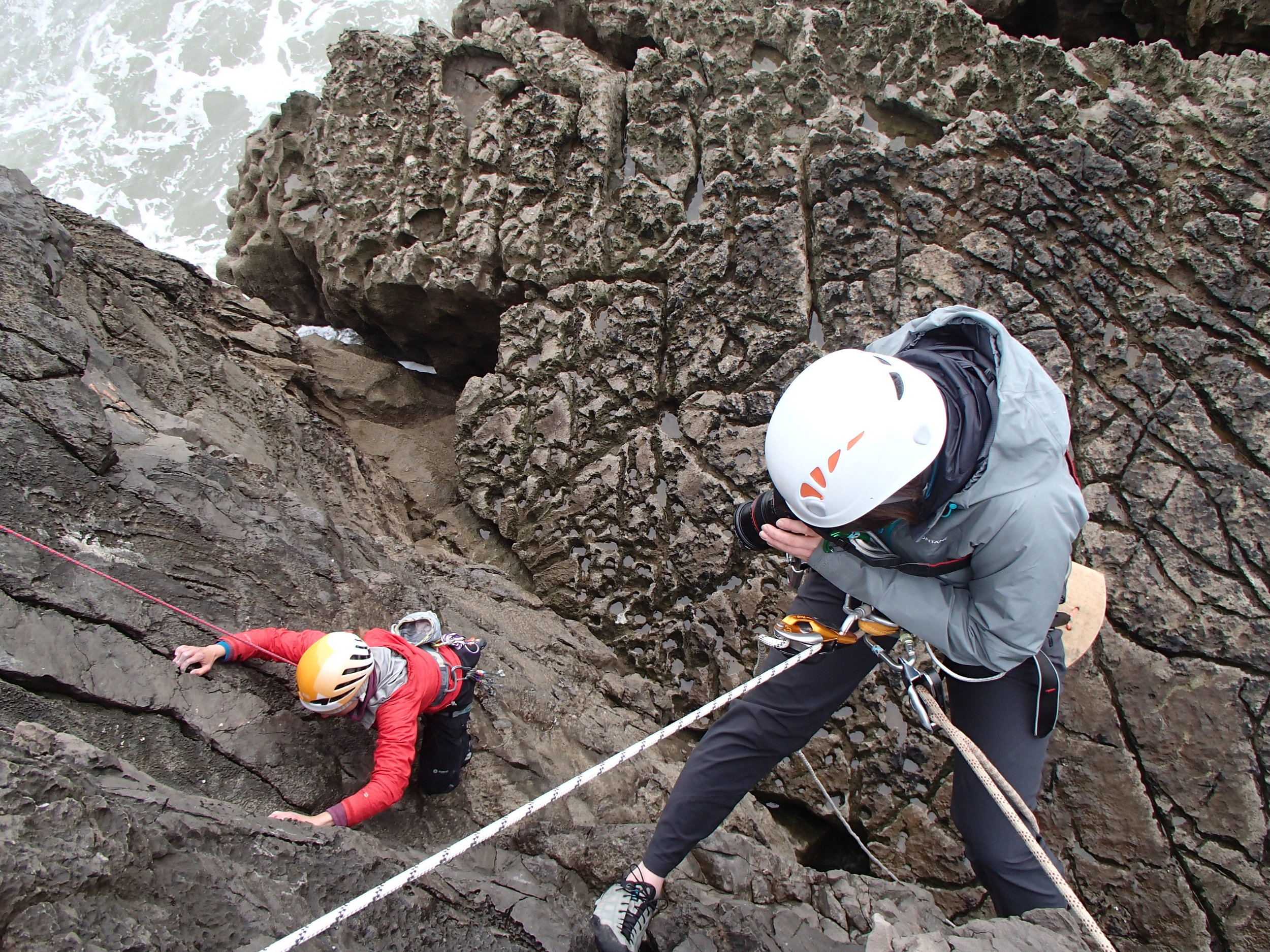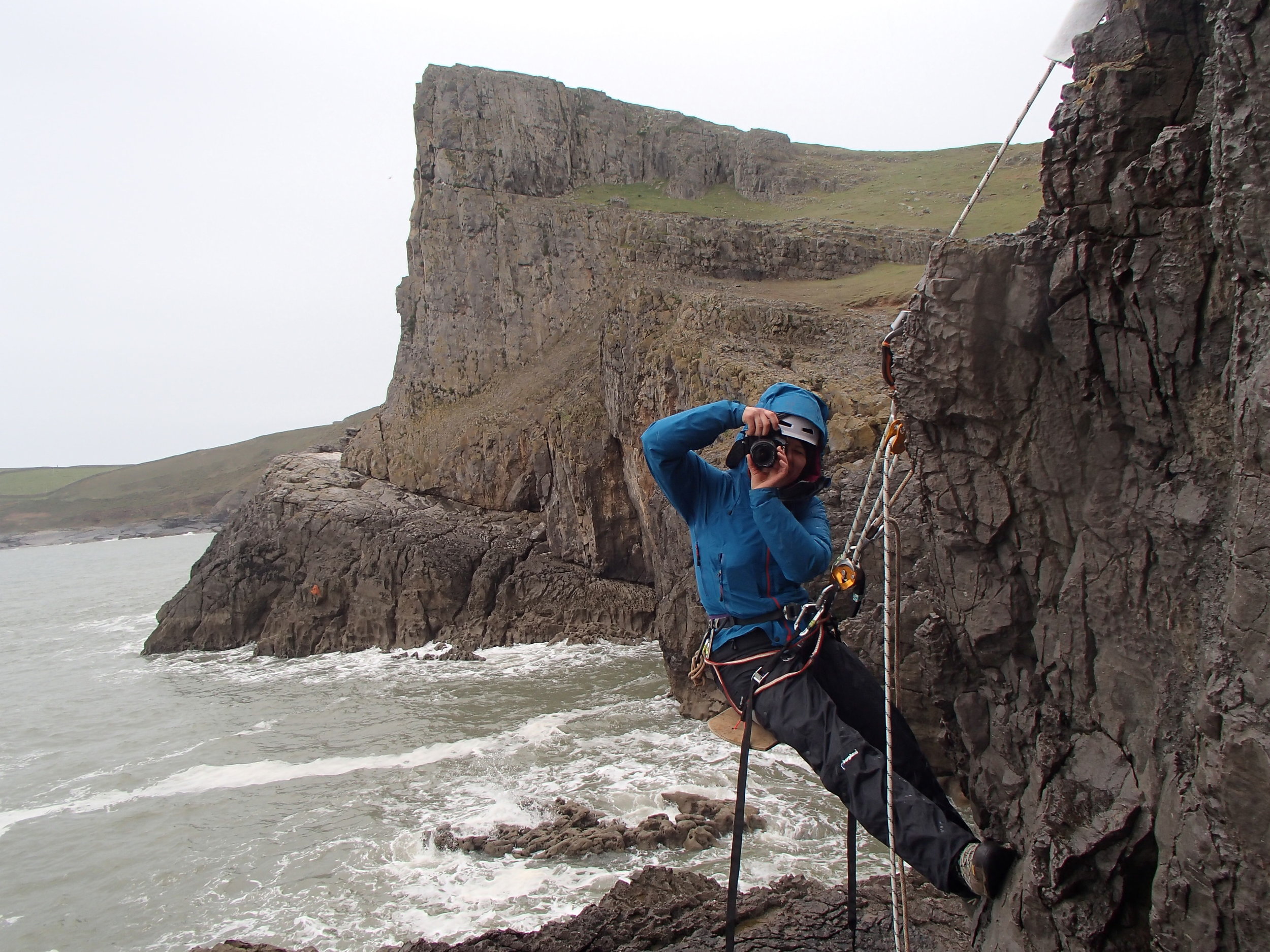 Our final workshop drew to a close and plans were made for collaborations and keeping in touch, I thought back to the many times I had considered cancelling the event in the run up to it April. I was scared of failing, I was scared that nobody would come, and I was scared that those that did come would find the weekend did not match their expectations. In fact I should have listened to Daughters of the Sea before I began, the best place to start is where you are and the worst time to quit is when you are in a dip. I am so glad that the weekend went ahead and that a group of amazing women and men came together to encourage more female filmmakers, photographers, writers and media-makers to create something and put themselves and their adventures out there. You have to be it to see it and with only 1 in every 9 photography competitions being won by women, we still have a way to go to equal representation in the world of Outdoor Media but by creating robust and supportive communities we can do more to address the balance.
If you are interested in learning more about Outdoor Media, then join our community over on Facebook. Our aim is to encourage more women to get involved with media-making and we welcome men and women who are committed to increasing diversity across the visual and written outdoor world.
A huge thank you to everyone that came along, supported and helped to run all of the events over the weekend!
Carys Griffiths is a surf photographer and founder of sustainable swimwear brand Fall Bay.
Natalie Hemingway is a photography teacher and founder of the Queens of Antur community.
Roslyn Cameron is an outdoor instructor, river ranger and aspiring media-maker.
Natalie Hewit is a freelance self-shooting producer and director.
Cory Hughes is one of the founders of Daughters of the Sea, is a champion of women's cold-water surfing and has a previous life in publishing.
Laura Truelove is one of the founders of Daughters of the Sea, she is a writer and champion of women's surfing.
Ruth Farrar is founder of the Shextreme Film Festival and the Shextreme Alliance, supporting women outdoor media-makers.
Matt Woodfield runs Outdoor Matters and is a climbing expert, instructor and guidebook writer based in South Wales.
We stayed at the beautiful Pitton Cross campsite, who helped support me and were very understanding when I had no idea how many people would come, thank you to Ian, Tracy and Jenny!